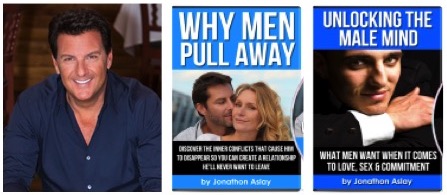 What are the unique challenges of dating after divorce?

When is a person ready to fully commit to a new relationship after divorce?

What about your online dating profile?
Our guest, Jonathon Aslay, is known as America's Leading Midlife Dating & Relationship Coach. He is a defender and protector of women's hearts around the world.  He helps women transform from attracting Mr. Wrong into finding their Mr. Right. He's a master at helping women recognize and distinguish the difference between men who are emotionally unavailable from those who are truly ready for love
He is a successful entrepreneur, coach, speaker, and author of Unlocking the Male Mind, Finding Love Online and Why Men Pull Away.
Webpage: www.JonathonAslay.com
Jonathan's Book "Understand Men NOW - https://amzn.to/2ChIBzq
Recommended Book: "Non-Violent Communication" https://amzn.to/2PA2TWn
…………………………………………………………………………………………
Click on this link https://goo.gl/Hx92H1 to get my Amazon #1 Bestselling book titled "Your Amazing Itty Bitty™ Family Leadership Book: 15 Simple Tips Successful Companies Use That Families Can Implement At Home"
Go to www.ParentPumpRadio.com to leave your questions, comments, and suggestions for future shows. 
Our show can be heard on Itunes, Google Play, Stitcher, MissionsRadio.org, and LiveLeadPlay.com.
#JonathonAslay #DatingAfterDivorce #UnlockingTheMaleMind #FindingLoveOnline #MidlifeDating #harmoniousfamily, #parentpumpradio #integrativeminds #Jacquelinetdhuynh #Jacquelinehuynh